PARC Seminar Series
The PARC Seminar Series showcases diverse research being conducted in PARC labs across campus. Meetings are open to the PARC campus community.
UPCOMING EVENTS
Student Spotlight
Speaker: Eric Shannon, Wei Siong Neo, and Michael Zimmerman
Monday, February 27 from 11AM-12PM in WALC 1121

Purdue Autism Research Center Scientific Conference
April 7, 2023; details to be announced February 2023
PAST EVENTS
Virtually assessing and treating families of children with rare disorders during COVID-19 and beyond
Speaker: Dr. Bridgette Kelleher, Purdue University

Evaluation of disparities in the Early Autism Evaluation (EAE) Hub System
Speaker: Dr. Ann Marie Martin, Indiana University School of Medicine

How can we make wearable sensors that work for people on the autism spectrum? A case for centering community in research
Speaker: Dr. Carolyn McCormick, Purdue University

ParaImpact: A Teacher-as coach model to support training of paraeducators
Speaker: Dr. Rose Mason, Purdue University
2023 PARC Scientific Conference
Save the Date! April 7, 2023

The PARC Annual Conference provides an opportunity for our community to celebrate the scientific advances being made by our PARC faculty and students. Events typically include symposia, social activities, and an engaging student poster showcase (with prizes!).
As part of this celebration, PARC invites leading visionaries in the field of autism to provide both a scientific and community-focused keynote speeches.
The 2023 Purdue Autism Research Conference will be held on Friday April 7th, from 8am-6pm in the PMU North Ballroom. Register here!
This day-long conference will feature keynote addresses from Dr. Karen Pierce (UCSD) and Dr. Anis Contractor (Northwestern), three faculty research symposia, a trainee luncheon, poster session, and reception. This exciting event will feature cutting-edge, multidisciplinary research from leading scholars in the field on autism spectrum disorders and other neurodevelopmental disabilities. This event is hosted by the Purdue Autism Research Center, with sponsorship from the Purdue Institute for Integrative Neuroscience.
All members of the Purdue community are welcome to attend! The conference schedule is listed below:
8am: Registration & Breakfast
8:30: Welcoming Remarks
8:45am: Keynote address by Dr. Contractor, 'Using mouse models to understand synaptic and circuit alterations in neurodevelopmental disorders'
10am: Symposium #1, 'Pre-clinical models of ASD and neurodevelopmental disorders'
11:15am: Roundtable Luncheon for Trainees.
12:15pm: Keynote address by Dr. Pierce, 'The search for early diagnostic and prognostic biomarkers of ASD: Advances using eye tracking and brain imaging'
1:45pm: Symposium #2, 'Novel community-based approaches to reduce time to diagnosis and intervention for young children at risk for ASD'
3pm: Symposium #3, 'Mechanisms of social and cognitive functioning in ASD'
4pm: Poster Session & Reception
Students & Trainees: Please joins us for the roundtable luncheon, which is a chance to meet with our invited speakers in a small-group format. Be sure to sign up for the luncheon when registering for the conference!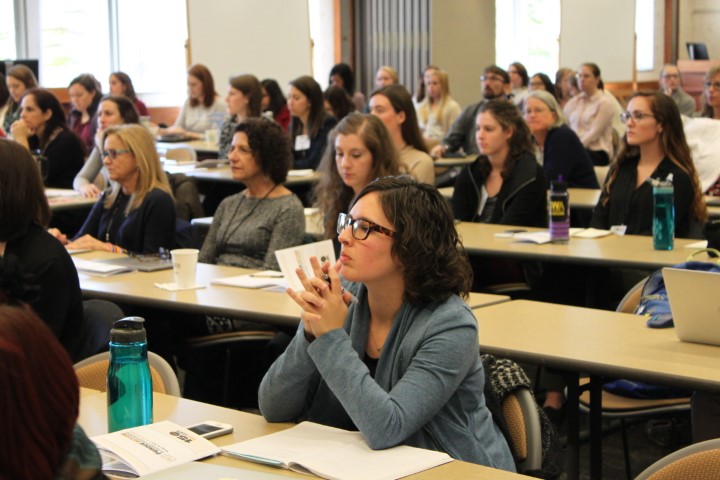 Question about an event?
Please send an e-mail to PARCAwards@purdue.edu.