Athletic trainers are healthcare professionals who identify, prevent, treat and rehabilitate emergency, acute or chronic injuries and conditions. The Purdue University master of science in athletic training program is a cooperative educational program housed in the Department of Health and Kinesiology with support from the Division of Intercollegiate Athletics, the Division of Recreational Sports and the Purdue University Student Health Center.
Starting in fall 2022, in accordance with the Athletic Training Strategic Alliance's new guidelines, the professional athletic training program will transition from a bachelor's degree program to a master's degree program. Purdue's Master of Science in Athletic Training degree proposal has been approved by the Purdue University Board of Trustees and the Indiana Higher Education Commission. Please contact the program director, Scott Lawrance, for additional information.
Purdue University's athletic training program is accredited by the Commission on Accreditation of Athletic Training Education (CAATE).
Program Highlights
Complete your master's degree in athletic training in two years.
Study under expert faculty-mentors who have practiced clinically, have received multiple teaching awards and are each members of the Indiana Athletic Trainers' Association Hall of Fame.
Work with specialized clinical preceptors who are recognized leaders in sports medicine.
Be part of a program that traces its history to the beginning of the profession and who continues to provide service and leadership at the highest levels.
Participate in athletic training focused study abroad options to Ireland, China and Japan as part of your plan of study throughout your undergraduate AND graduate studies.
Participate in immersive clinical experiences for 32+ weeks as a graduate student.
Leave the program with multiple credentials that will make you more appealing in a competitive job market.
Potential Careers
Students who complete the athletic training graduate program can become head or assistant athletic trainers in organizations, such as:
Rehabilitation clinics
Physician offices
Performing arts
High schools
The Big Ten
The Pac-10
The NBA
The NFL
Research
In addition to clinical experiences, graduate students have the opportunity to work alongside award-winning faculty members as they develop new techniques and strategies to advance the athletic training field and improve outcomes for athletes.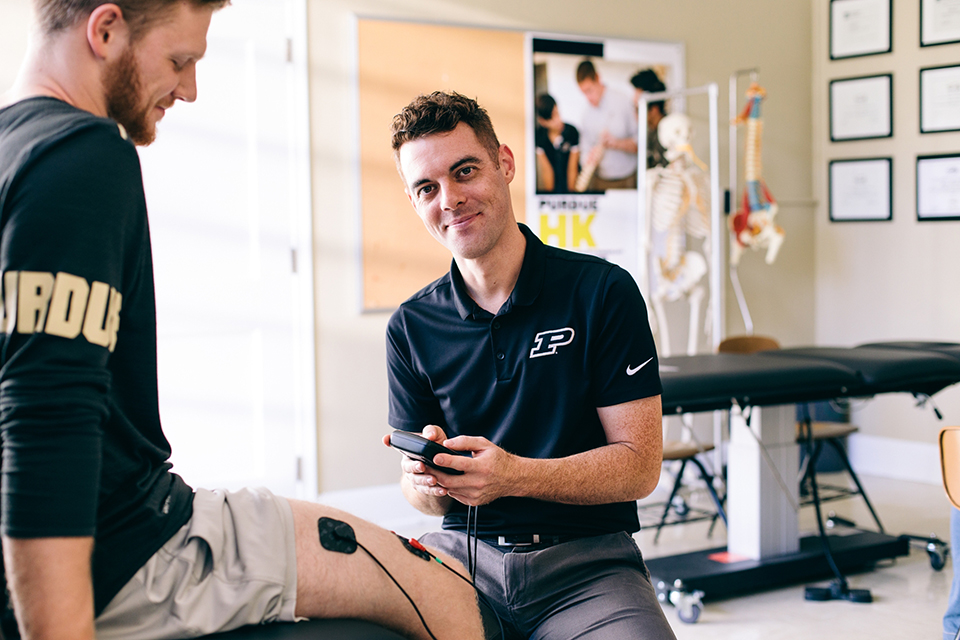 Research Opportunities
Limb symmetry to identify and predict risk of lower extremity injury
Early professional success in athletic training
Identification of skill decay in acute care skills in both students and professionals
Identifying feasible mechanisms for combating the decay of skills
Accreditation
Purdue University is currently accredited by the Commission on Accreditation of Athletic Training Education (CAATE), 2001 K Street NW, Third Floor North, Washington DC 20006. The program is applying to the CAATE for a substative change in level of degree.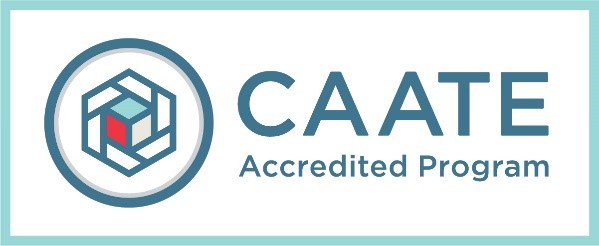 In compliance with U.S. Department of Education regulations 34 CFR 668.43 (a) (5) (v) and 34 CFR 668.43 (c) the Purdue Athletic Training program acknowledges the curriculum meets educational requirements for the Board of Certification (BOC) examination, recognized as the required examination for professional regulation in all states. California does not currently regulate the Athletic Training profession.