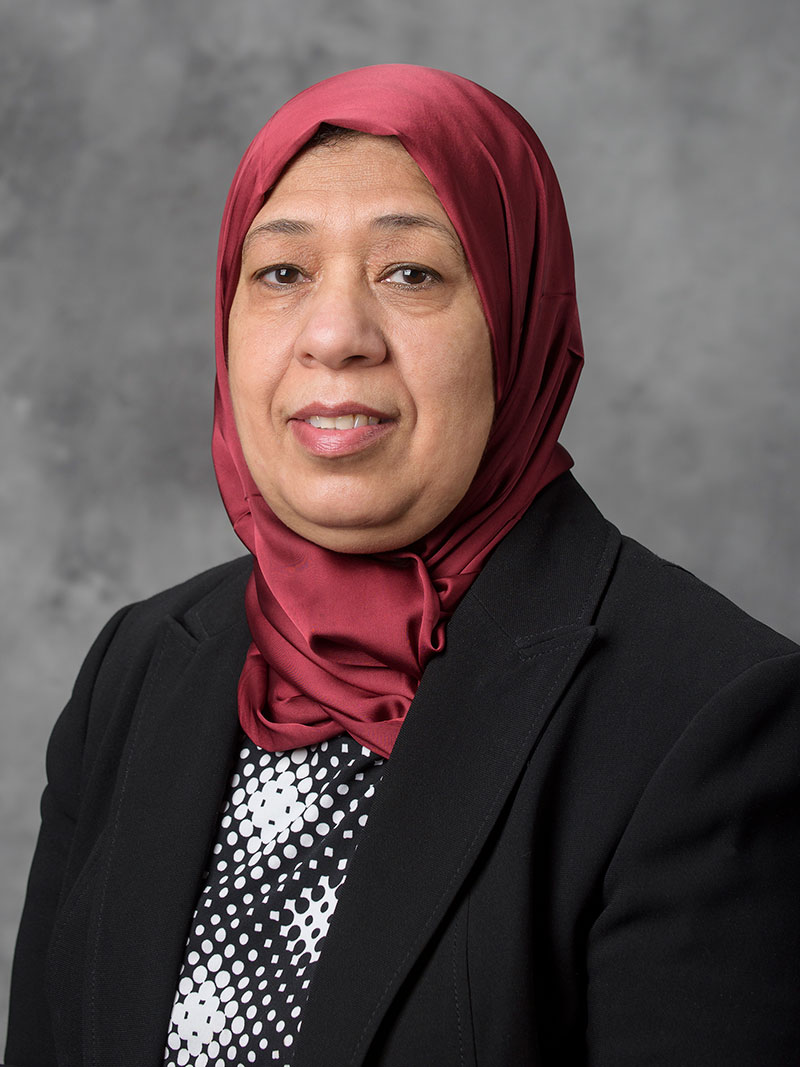 Pronouns: She/her
Email: ahmedah@purdue.edu
Phone: 765-494-1272
Office:

502N University Street
47906
Curriculum Vitae
Selected Publications
Back to Directory
Azza Ahmed
Associate Professor, School of Nursing

Director of Diversity, Equity, and Inclusion

---
Areas of Expertise
Infant feeding and Lactation support
Tele-lactation support
Maternal sleep and lactation outcomes
Maternal Mental Health during Breastfeeding,
Breastfeeding Education for eHealth care Providers
HHS Signature Research Area(s)
Developmental Health and Wellness
Sustainable Organizations and Thriving Communities
School of Nursing Research Area(s)
Family, Maternal and Child Health
Health Promotion and Population Health
Biography
Dr. Ahmed is a Certified Pediatric Nurse Practitioner (CPNP) and International Board-Certified Lactation Consultant (IBCLC). Her research program is focused on breastfeeding promotion, education, and support. She collaborated to develop and test interventions that support and improve breastfeeding outcomes and maternal self-efficacy among vulnerable populations specifically preterm infants and low-income families using technology and digital health. She developed a comprehensive tele-lactation system and integrated videoconferencing and tested its effect in improving breastfeeding outcomes and maternal mental health. In addition, over the past several years, her interprofessional research collaboration also focused on studying biobehavioral factors that affect delayed lactogenesis II and breastfeeding outcomes, specifically sleep disturbance among pregnant women and the risk of delayed lactation among socioeconomically disadvantaged women. Dr. Ahmed is also interested in improving breastfeeding education among health professionals. She has been recognized for her research and services nationally and Internationally through the Sigma Theta Tau International Honor Society of Nursing's Audrey Hepburn Award for the Contribution for the Health and Welfare of Children, Excellence in Nursing Research Award from Delta Omicron Chapter, Sigma Theta Tau International, and Tony and Mary Hulman Health Achievement Award in the field of Health Science Research, Indiana Public Health Association. She was inducted as a fellow of the American Academy of Nursing in 2019 and recently inducted as a Fellow of the International Lactation Consultant Association (March 2022).
Education
Doctor of Nursing Science, University of Cairo, Egypt
Post-Masters Pediatric Nurse Practitioner Certificate, Purdue University
International Board Certified Lactation Consultant
Diversity, Equity and Inclusion
Director of Diversity, Equity, and Inclusion
Current Courses
NUR 500 - Theoretical Constructs in Nursing
NUR 505 - Socio-Cultural Influences on Health
NUR 69040 - Collaboration Seminar
Selected Honors/Awards
Fellow of the International Lactation Consultant Association (FILCA) , - March 15 2022,
Fellow of the American Academy of Nursing (FAAN) - October 2019
Experienced Leadership Academy Scholar, SIGMA - Jan 2021
Audrey Hepburn Award for the Contribution for the Health and Welfare of Children, Sigma Theta Tau International Honor Society of Nursing - August 2015
Selected Grants
Co-Investigator, Sleep, feeding, and obesity risk during infancy in African American and Latinx families. CTSI/CTR, Kameron Moding (PI)
Principal Investigator, Barriers and Contributor Factors in Implementing Tele-lactation Support among Low-income Mothers, Clifford Kinley Trust Grant Award
Principal Investigator, Sleep and Obesity during Pregnancy: Impacts on Breastfeeding Success among Indiana's Rural Mothers, Grant: Agricultural Science and Extension for Economic Development, Purdue University
Principal Investigator, Effect of Web-based Monitoring on Breastfeeding Outcomes, CTSI/CTR
Principal Investigator, Breastfeeding Outcomes and Perceived Maternal Self-efficacy among Low-income Mothers of Late Preterm Infants, Clifford Kinley Trust Grant Award
Professional Affiliations
American Academy of Nursing
Council for the Advancement of Nursing Science
Midwest Nursing Research Society
International Lactation Consultant Association
Sigma Theta Tau International