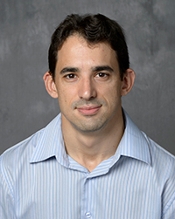 Pronouns: he/him
Email: brosegui@purdue.edu
Phone: 765-496-2612
Office:

Health and Kinesiology
800 W Stadium Ave
IN 47906
Curriculum Vitae
Selected Publications
Back to Directory
Bruno Roseguini
Associate Professor, Department of Health and Kinesiology


---
Courtesy Appointments
Adjunct Associate Professor of Surgery, Department of Surgery, Indiana University School of Medicine
Areas of Expertise
Peripheral artery disease
Heat therapy
HHS Signature Research Area(s)
Healthy Lifestyles and Vital Longevity
Department of Health and Kinesiology Research Area(s)
Biography
My primary research focus is to elucidate the mechanistic basis underlying exercise intolerance in peripheral artery disease (PAD) and explore novel therapeutic interventions to restore vascular and skeletal muscle function and improve functional capacity in patients with this condition. We utilize a translational approach with experiments in rodent models as well as in patients with symptomatic PAD. We are currently conducting a series of studies to investigate the acute and long-term impact of heat therapy on the vasculature and on skeletal muscle of patients with PAD as well as in healthy young volunteers. Heat therapy is an emerging non-invasive therapeutic tool that has been shown to overcome some of the barriers associated with current therapies for PAD. Heat therapy is particularly appealing for patients with PAD because it is portable, easy to use and amenable for application in the home setting, thus eliminating the need for patient supervision as well the frequent travelling to rehabilitation facilities. We recently examined the impact of repeated exposure to heat therapy in a model of PAD produced by ligation of the femoral artery in mice. Exposure to heat therapy at 37ºC and 39ºC improved force development of the isolated soleus muscle.  In healthy young individuals, we demonstrated that exposure to heat therapy promotes marked increases in skin and leg blood flow and enhances the expression in skeletal muscle of key genes involved in vascular and skeletal muscle growth, including vascular endothelial growth factor. More recently, we documented that repeated applications of leg heat therapy following muscle damage accelerates functional recovery in healthy individuals.
Education
PhD, 2011, University of Missouri
MS, 2006, Universidade Federal do Rio Grande do Sul
PT, 2004, Universidade Estadual de Londrina
Current Courses
HK468 - Advanced Exercise Physiology II
HK 536 - Cardiopulmonary Physiology
Selected Honors/Awards
Outstanding Graduate Faculty Member of the Year, Department of Health and Kinesiology, Purdue University - Outstanding Graduate Faculty Member of the Year – Department of Health and Kinesiology
Selected Grants
Heat therapy for Intermittent Claudication, National Institute on Aging (R21AG053687). Bruno Roseguini (PI). Period 07/01/2018 - 05/31/2022.
In the News