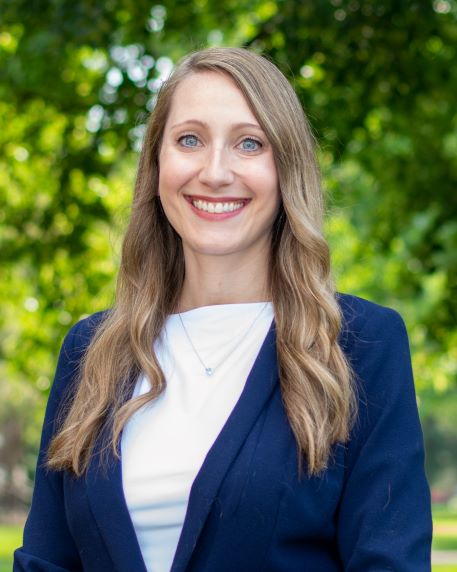 Pronouns: she/her
Email: shrout@purdue.edu
Phone: 765-496-3006
Office:

Fowler Memorial House, Room 202
1200 West State St.
West Lafayette, IN 47907
Curriculum Vitae
Back to Directory
Rosie Shrout
Assistant Professor, Department of Human Development and Family Science

Faculty Associate, Center on Aging and the Life Course

---
Courtesy Appointments
Department of Psychological Sciences
Areas of Expertise
Relationships, stress, and biobehavioral health across adulthood and later life
Stress and coping in couples with breast cancer or chronic illness
Infidelity and relationship conflict
Psychoneuroimmunology, including cardiovascular, immune, and endocrine function
Inflammation, gut microbiome, and aging biomarkers
Dyadic, daily, and longitudinal methods
HHS Signature Research Area(s)
Developmental Health and Wellness
Healthy Lifestyles and Vital Longevity
Sustainable Organizations and Thriving Communities
Department of Human Development and Family Science Research Area(s)
Culture and Diversity
Health and Well-Being
Interpersonal Relations
Biography
As a social-health psychologist with training in psychoneuroimmunology and quantitative methods, I study how stress affects couples' relationships and health among aging couples and those with breast cancer or chronic illness. A central focus of my work is to understand why some couples grow stronger and healthier, while others experience relationship conflict and health problems. Because stress is inevitable and a natural part of everyday life and relationships, I developed the Dyadic Biobehavioral Stress Model to illustrate how couples' stress and coping alters each partner's relational, psychological, and physical health. This model and my work have shown that the way partners manage stress can get under each other's skin to influence health, including their immune, cardiovascular, and endocrine systems. My work identifies factors that put couples' relationships and health at risk and informs interventions on how couples can grow closer and stronger during turbulent times.
Accepting graduate student applications for the December 1, 2023 deadline.
Education
Presidential Postdoctoral Fellowship, Ohio State University
PhD, 2019, University of Nevada, Reno
2013, MA, Towson University
2011, BA, State University of New York at Potsdam
Websites
Social Media Accounts
Diversity, Equity and Inclusion
Safe Zone
LGBTQIA+ Inclusive Classrooms
Current Courses
HDFS 201 - Introduction to Family Processes
Selected Publications
Shrout, M. R., Madison, A. A., Renna, M. E., Alfano, C. M., Povoski, S. P., Lipari, A. M., Agnese, D. Carson III, W. E., Malarkey, W. B., Bailey, M. T., & Kiecolt-Glaser, J. K. (2022). The gut connection: Gut leakiness as a pathway from breast cancer survivors' relationship satisfaction to inflammation across treatment. Brain, Behavior, and Immunity, 100, 145-154. https://doi.org/10.1016/j.bbi.2021.11.012
Shrout, M. R. (2021). The health consequences of stress in couples: A review and new integrated Dyadic Biobehavioral Stress Model. Brain, Behavior, and Immunity – Health, 16, 100328. https://doi.org/10.1016/j.bbih.2021.100328
Shrout, M. R., Renna, M. E., Madison, A. A., Alfano, C. M., Povoski, S. P., Lipari, A. M., Agnese, D. M., Farrar, W. B., Carson III, W. E., & Kiecolt-Glaser, J. K. (2021). Breast cancer survivors' satisfying marriages predict better psychological and physical health: A longitudinal comparison of satisfied, dissatisfied, and unmarried women. Psycho-Oncology, 30(5), 699-707. https://doi.org/10.1002/pon.5615
Shrout, M. R., Renna, M. E., Madison, A. A., Jaremka, L. M., Fagundes, C. P., Malarkey, W. B., & Kiecolt-Glaser, J. K. (2020). Cortisol slopes and conflict: A spouse's perceived stress matters. Psychoneuroendocrinology, 121. https://doi.org/10.1016/j.psyneuen.2020.104839
Shrout, M. R., Brown, R. D., Orbuch, T. L., & Weigel, D. J. (2019). A multidimensional examination of marital conflict and health over 16 years. Personal Relationships, 26(3), 490-506. https://doi.org/10.1111/pere.12292
Selected Honors/Awards
Success Mentors Faculty Favorites, Purdue University College of Health and Human Sciences - 2023
Inaugural Early Career Editorial Board Member, Psychosomatic Medicine - 2022
Outstanding Student/New Professional Paper Award, National Council on Family Relations' Families and Health Section - 2022
Emerging Scholar Award, Society for Personality and Social Psychology - 2022
Outstanding Student/New Professional Paper Award, National Council on Family Relations' Families and Health Section - 2022
KL2 Early Career Investigator Award, National Institutes of Health, Indiana Clinical and Translational Sciences Institute - 2022-2024
Lorene Burkhart Award for Excellence in Research about Families, Purdue University's Center for Families - 2022
Editor's Choice Article, Psychoneuroendocrinology - 2020
Young Scholar Award, American Psychosomatic Society - 2020
Most Outstanding Graduate Student Researcher, University of Nevada, Reno Graduate Student Association - 2019
Selected Grants
Kinley Trust Award, Purdue University, 2023-2024, $25,000
HRV and Inflammation in Breast Cancer Survivors and Their Partners: A Daily Study on Biobehavioral Health and Cardiovascular Disease Risks. NIH National Center for Advancing Translational Sciences (NCATS), Indiana Clinical and Translational Sciences Award (KL2 Program), KL2TR002530 (Sheri L. Robb, PI), and UL1TR002529 (Sharon M. Moe and Sarah E. Wiehe, co-PIs). 2022 – 2024. Total award: $383,460
Professional Affiliations
American Psychosomatic Society
Gerontological Society of America
International Association for Relationship Research
National Council of Family Relations
Society for Personality and Social Psychology
In the News