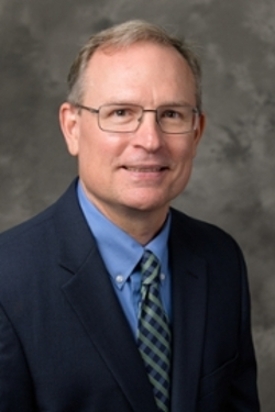 Email: campbeww@purdue.edu
Phone: 765-543-7836
Office:

Stone Hall, room 203
700 Mitch Daniels Blvd.

Curriculum Vitae
Back to Directory
Wayne Campbell
Professor, Department of Nutrition Science


---
Areas of Expertise
Dr. Campbell specializes in conducting randomized controlled trials with prescribed eating patterns with human adult participants.
Current research emphasizes studying the effects of various agricultural commodities (e.g., mushrooms, red meats, plant-based protein foods, poultry, and dairy products) on indices of human health.
Dr. Campbell's research group has expertise conducting systematic reviews and meta-analyses of literature.
HHS Signature Research Area(s)
Healthy Lifestyles and Vital Longevity
Department of Nutrition Science Research Area(s)
Metabolism and Obesity
Minerals, Vitamin D and Bone Health
Food, Ingestive Behavior and Population Nutrition
Biography
Dr. Campbell is a Professor in the Department of Nutrition Science and a faculty associate of the Center on Aging and the Life Course, and the Ingestive Behavior Research Center, at Purdue University. Dr. Campbell's research program is dedicated to evaluating and understanding how nutrition and exercise can be used as effective tools to positively affect the metabolism, health and functional well-being of people as they progress through the life course.  His current research focuses on assessing the effects healthy eating patterns and protein-rich foods on nutri-metabolomics, cardiometabolic disease risk factors, indices of well-being. Dr. Campbell, and colleagues also study influences of dietary protein source, quantity, and within-day patterning on body composition (including muscle and bone) responses to anabolic and catabolic stimuli (exercise training and dietary energy restriction, respectively, and dietary protein needs of older adults. Dr. Campbell has served on research advisory panels for NIH, USDA, NASA, USARIEM, and FAA, and was a member of the U.S. Departments of Health and Human Services (HHS) and Agriculture (USDA) 2015 Dietary Guidelines Advisory Committee and the HHS 2018 Physical Activity Guidelines Advisory Committee.
Education
PhD, 1993, Nutritional Sciences, Tufts University, Boston, MA
MS, 1987, Nutritional Sciences, University of Maryland, College Park, MD
BS, 1984, Nutritional Sciences, University of Delaware, Newark, DE
Websites
Current Courses
NUTR 10700 - Introduction to Nutrition Science
NUTR 48800 - Topics in Nutrition, Fitness, and Health
NUTR 39700 - Undergraduate Directed Honors Research
Selected Publications
Wang Y, Hill ER, Campbell WW, O'Connor LE. Plant- and animal-based protein-rich foods and cardiovascular health. Curr Atheroscler Rep. 2022 Apr;24(4):197-213, Published online: 25 March 2022. PMID 35332443
Bergia RE, Giacco R, Hjorth T, Biskup I, Zhu W, Costabile G, Vitale M, Campbell WW, Landberg R, Riccardi G. Differential Glycemic Effects of Low- versus High-Glycemic Index Mediterranean-Style Eating Patterns in Adults at Risk for Type 2 Diabetes: The MEDGI-Carb Randomized Controlled Trial. Nutrients. 2022 Feb 8;14(3):706. PMID: 35277067
Hudson JL, Zhou J, Kim JE, Campbell WW. Incorporating Milk Protein Isolate into an Energy-Restricted Western-Style Eating Pattern Augments Improvements in Blood Pressure and Triglycerides, but Not Body Composition Changes in Adults Classified as Overweight or Obese: A Randomized Controlled Trial. Nutrients. 2020 Mar 22;12(3):851. PMID: 32235773
Reisdorph NA, Hendricks AE, Tang M, Doenges KA, Reisdorph RM, Tooker BC, Quinn K, Borengasser SJ, Nkrumah-Elie Y, Frank DN, Campbell WW, Krebs NF. Nutrimetabolomics reveals food-specific compounds in urine of adults consuming a DASH-style diet. Sci Rep. 2020 Jan 24;10(1):1157. PMID: 31980691
Guasch-Ferré M, Satija A, Blondin SA, Janiszewski M, Emlen E, O'Connor LE, Campbell WW, Hu FB, Willett WC, Stampfer MJ. Meta-Analysis of Randomized Controlled Trials of Red Meat Consumption in Comparison With Various Comparison Diets on Cardiovascular Risk Factors. Circulation. 2019 Apr 9;139(15):1828-1845. PMID 30958719
Selected Honors/Awards
2018 Physical Activity Guidelines Advisory Committee. Appointed by the U.S. Secretary of Health and Human Services - Served 2016-2018
Pfizer Consumer Healthcare Nutritional Sciences Award, American Society for Nutrition Foundation, National Scientific Achievement Award for senior investigators. - June 2018
2015 Dietary Guidelines Advisory Committee. Appointed by the U.S. Secretaries of Health and Human Services and Agriculture - Served 2013-2015
Outstanding Graduate Faculty Mentor Award (2020) and Undergraduate Honors Mentor Award (2009) -
Research Excellence Award, Center on Aging and the Life Course. - April 2016