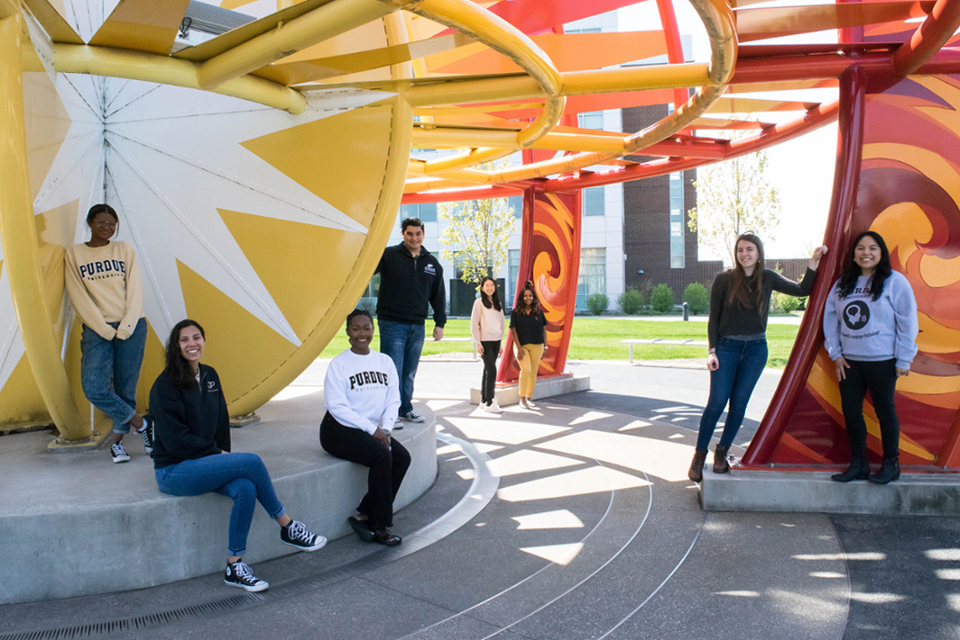 Mission Statement
Within a field of only 8% racial minorities, the Department of Speech, Language, and Hearing Sciences (SLHS) is committed to making deliberate and calibrated efforts to increase representation and support and elevate marginalized communities. In doing so, we aim to foster diversity, equity and inclusion in our education, research, training and clinical service missions to dismantle practices that perpetuate disparities. We will lead by example to promote cultural responsiveness and reject all forms of prejudice, intolerance and discrimination.
More information about the overall mission and vision for SLHS can be found in our strategic plan.
Chair and Committee
Chair of Diversity, Equity and Inclusion
Chenell Loudermill, PhD, CCC-SLP
Clinical Professor & Director of Clinical Education
in Speech-Language Pathology
(she/her)
clouder@purdue.edu
Committee
SLHS Diversity, Equity, and Inclusion Committee Members
Jaime Bauer Malandraki, Clinical Assistant Professor
Anne Gritt, Clinical Assistant Professor
Michael Heinz, Professor
Kwang Kim, Assistant Professor
Zachary La Fratta, Clinical Assistant Professor
Kate Martin, Administrative Assistant to the Head
Izzy Matamoros, PhD student
Liya Kahsay, MS-SLHS student
Leroy Medrano, AuD student
Khalya Dent, Undergraduate student
Ellie Kuzemka, Undergraduate student
Sarah Lopez, Undergraduate student
Margaret Palanca, Undergraduate student
SLHS Ombudspersons
Amanda Seidl
Ronnie Wilbur
---
Department Programs and Initiatives
Newly Admitted Undergraduate Students
SLHS is eager to get to know newly admitted undergraduate students and learn how we can help you accomplish your goals. Connect with members of our Diversity, Equity and Inclusion (DEI) Committee to obtain additional information about the department and help you navigate postsecondary education. Virtual meetings are held during the spring and summer for undergraduate students entering Purdue in the fall.
SLHSCares
The Department of Speech, Language, and Hearing Sciences cares deeply about the well-being of our students, and we want to ensure you feel a sense of belonging at Purdue and in SLHS. We invite you to attend one of our SLHSCares check-ins to chat with a student member of our DEI Committee and let us know how you are doing. Check-ins are held virtually throughout the semester on the scheduled dates below. Please see dates, times and meeting room links below.
SLHSCares Check-Ins
April
Date: Tuesday, April 4, 2023
Time: 4:00-5:00 PM
Facilitator: Sarah Lopez
Location: In-Person, location TBD
Event: DEI in SLHS Student Panel
Date: Tuesday, April 18, 2023
Time: 4:00-5:00 PM
Facilitator: Khalya Dent, Marly Palanca
Location: In-Person, location TBD
Event: Mental health activities leading up to finals
Date: Monday, April 24, 2023
Time: 6:00-7:00 PM
Facilitator: Khalya Dent, Marly Palanca
Location: In-Person, Memorial Mall
Event: Mindfulness and Meditation before final exams
---
Justice, Equity, Diversity and Inclusion (JEDI) Curriculum for Graduate Students
To train you to be culturally competent and provide the most appropriate care for your clients and patients, students enrolled in our MS-SLP program will engage with the SLHS JEDI curriculum. Course objectives are based on the Association of American Colleges and Universities' Intercultural Knowledge and Competence Value Rubrics and link to CAA program standards and CFCC certification standards for graduate programs.
---
Connect with Us
Choosing the right program for you is a big decision, so it can be helpful to talk to those who have been in your shoes. Several SLHS alumni and students are eager to share their experiences and help you gather insights into your options. Learn more about their interests and ways to get in touch below.
SLHS Alumni
Current SLHS Students
Evan Chambers
BS
Evan Chambers
BS
chambe85@purdue.edu
BS Class of 2022
MS-SLP Class of 2024
Why I chose Purdue: "I chose SLHS at Purdue because of the rigorous program. Purdue is No. 3 in the nation for speech-language pathology programs, so I knew I would be challenged by the faculty, which, in turn, would help me grow. The SLHS program here at Purdue is full of professors who want to see students succeed. I could not have chosen a better major nor a better group of professionals to help foster my interest in learning and discovering new things. I hope to continue my education and eventually obtain a PhD."
Helen Willis
BS
Helen Willis
BS
hawillis@purdue.edu
BS Class of 2024
Why I chose Purdue: "Coming to Purdue I was unsure of the specific major I wanted to pursue, however, with more research, connecting with students, and supportive faculty, I found a welcoming community in SLHS. Additionally, as I am passionate about research, the SLHS faculty helped expand my knowledge within modern advancements in the field. I am so grateful to have joined a program that supports the whole person through emotional, physical, and academic endeavors."
---
Statistically Speaking
Join our extended clinical educator team!
In a profession where only 8% of practicing professionals represent individuals who are Black, Indigenous, or People of Color (BIPOC) and approximately 5% identify as male, it is important for us to understand the composition of our profession, so we can seek out practitioners from diverse or underrepresented groups. This offers our students exposure to different perspectives of the field and opportunities to learn from diverse individuals. It is equally important that we support practitioners from marginalized communities who wish to become preceptors. If you identify as BIPOC, LGBTQ+ or are a member of any other historically excluded or marginalized group and wish to serve as a clinical preceptor for Purdue students, please email the Doctor of Audiology externship coordinator, Shannon Van Hyfte, at svanhyff@purdue.edu; the speech-language pathology educational externship coordinator, Tamar Greenwell, at greenwel@purdue.edu; or the speech-language pathology healthcare externship coordinator, Jaime Bauer Malandraki, at jaimebauer@purdue.edu. As our profession continues to evolve, we are committed to doing our part to promote social justice, diversity, equity and inclusion.