Speech-Language Pathology (MS-SLP) Graduate Program
Department of Speech, Language, and Hearing Sciences
View Department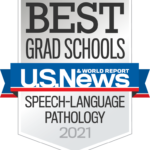 Ranked No. 3 by U.S. News & World Report, highest ranked program in Indiana
The clinical master's program in speech-language pathology (MS-SLP) at Purdue is designed so graduates can meet all academic, clinical certification, licensure and credentialing requirements of the American Speech-Language-Hearing Association (ASHA), the Indiana Speech-Language Pathology and Audiology Board (ISLPAB) and the Indiana Department of Education Communication Disorders License.
The Master of Science (MS) program in speech-language pathology at Purdue University is accredited by the Council on Academic Accreditation in Audiology and Speech-Language Pathology of the American Speech-Language-Hearing Association, 2200 Research Boulevard #310, Rockville, Maryland, 20850, 800-498-2071 or 301-296-5700.
Student Outcome Data
Program Highlights
The MS-SLP graduate program prepares you to provide independent clinical services in speech-language pathology to individuals of all ages through coursework, clinical experiences and research.
High-quality clinical education is integral to the MS-SLP program. You will have opportunities to work under the direct supervision of clinical faculty members in the M.D. Steer Speech, Language and Swallowing Clinics to diagnose, assess and treat communication and swallowing disorders and acquire the skill sets needed to become a licensed, certified speech-language pathologist.
Admissions/Requirements
Applications for admission to our clinical programs (AuD, MS-SLP) require materials to be sent both via the Centralized Application Service for Communication Science & Disorders (CSDCAS) and via Purdue's online systems.
Application Materials to Be Submitted Via CSDCAS
To be considered for admission, your application should be marked by CSDCAS as "Complete" or as "Verified" before January 15.
Application fee.
Three letters of recommendation.
In the normal case, the department strongly recommends that applicants to our clinical graduate programs solicit letters of recommendation from three academic faculty members. Ideally, at least two of these letters should be from faculty in speech, language, or hearing sciences or a closely related field, or from two such faculty members and a clinical practitioner who has supervised your work or volunteer activities for a significant period. If you are only able to obtain two letters from academic faculty or clinical supervisors, a third letter from a person for whom you have worked for at least a year in a closely supervised non-clinical position may be acceptable. At a minimum, all referees should know you well enough to attest to your academic abilities and potential to excel in a clinical graduate program, and at least two of them should be familiar with the demands of graduate study, ideally, with the demands of clinical graduate study in speech-language pathology or audiology.

The department recommends that you do not solicit letters from individuals whose primary qualification is that they are your neighbors, family friends, clergypersons, or employers (except as described above).
Official transcripts from all institutions attended. This includes dual credit transcripts.  Please refer to CSDCAS instructions.
Official evaluations of any international transcripts.
CV or resume. Please be sure to include relevant experience in the areas of leadership, collaboration, critical thinking and community advocacy.
Personal essay. Your personal essay should address how your experiences have shaped your interest in speech or hearing, what your career goals are and why you believe you are a good fit for our program. 
Diversity essay. Please provide a diversity essay of 500 words or less that describes your leadership, work experience, service experience or other significant involvement with racial, ethnic, socio-economic or educational communities that have traditionally been underrepresented in higher education, and how these experiences would promote a diversity of views, experiences and ideas in the pursuit of research, scholarship and creative excellence.
Video response to question prompt. Please follow the instructions given in the CSDCAS application.
Please contact the Graduate Program Secretary with any questions.
CSDCAS Application
Prerequisite Courses for MS-SLP Clinical Degree
Minimum Undergraduate Course Requirements
Students who plan to achieve professional clinical certification through the American Speech-Language-Hearing Association (ASHA) in Speech-Language Pathology will be expected to take all of the following prerequisite undergraduate courses prior to the beginning of the graduate program.
1 course in normal anatomy & physiology for speech and hearing
1 course in acoustics or speech science
1 course in normal language development
1 course in aural rehabilitation other than sign language
1 course in hearing disorders and hearing evaluation
1 course in phonetics
1 course in biological sciences
1 course in physical sciences
1 course in behavioral/social sciences
1 course in statistics covering at least t-tests, analyses of variance, regression (correlation) and non-parametric statistics (e.g., chi-square). This should be a stand-alone course in statistics. Research methodology courses may not be used. The courses offered at Purdue University that are acceptable are: STAT 30100, STAT 50100, STAT 50300, PSY 50000, and SOC 38200. Other Purdue courses and all transfer courses must be approved by the Graduate Committee. AP credit cannot be used to meet the statistics requirement.
For questions about the prerequisite requirements, applicants should contact the graduate program secretary, Vicki Black, at slhsgradsec@purdue.edu as soon as possible.
Prerequisite Students
We accept students with a bachelor's degree in other areas. We consider this type of student a prerequisite applicant. Students accepted into the prerequisite program will take an extra year to complete. All applicants are evaluated equally regardless of their degree area. Students with bachelor's degrees in other areas may also take the prerequisite courses prior to applying to our program.
Completion of 25 Observation Hours
Graduate students do not participate in a clinical practicum until they have completed 25 clock hours of ASHA certified, supervised guided observation. Therefore, students entering the MS-SLHS clinical program must complete 25 clock hours of ASHA certified, supervised guided observation prior to the beginning of the program. These guided observation hours must be accumulated through observation of evaluation and treatment of children and adults with disorders of speech, language, swallowing, or hearing. The guided observation experience must be signed by a Speech-Language Pathologist or Audiologist with current certification (CCC-SLP or CCC-A) status. For students who did not complete 25 clock hours of observation, an online option will be offered, to be taken by the students during the summer before they begin the graduate program. Students should reach out to the Director of Clinical Education as soon as possible.
Applications for International Students
Please note, the Department of Speech, Language, and Hearing Sciences has higher minimum requirements for English language proficiency for a clinical degree than the Purdue University Graduate School. Also, SLHS does not waive this requirement even if you have earned a degree within the past 24 months from an institution where English is the primary language of instruction.
To be eligible for admission into the clinical programs, or to be eligible for departmental funding as a PhD student (unless other arrangements are made with the students' PhD supervisor) all international applicants must meet the higher department standards.
English proficiency test scores are required of all international applicants whose first language is not English.
TOEFL Ibt: a minimum total score of 100 with minimum individual scores of 28 for speaking; 22 for writing; 22 for listening; and 22 for reading.
IELTS: a minimum score of 7.5 with no single band score lower than 7.0. International transcripts must be uploaded or submitted in their original form and in translation, along with copies of any diplomas awarded. Please send any paper transcripts to the Graduate Program Secretary.
View Admissions Criteria
View Course List
MS-SLP Sample Plan of Study
Research
The department has a long record of significant contributions to research and professional education. Because of this the MS-SLP program offers opportunities for students to explore research alongside faculty across a variety of topics to address speech, language and swallowing disorders.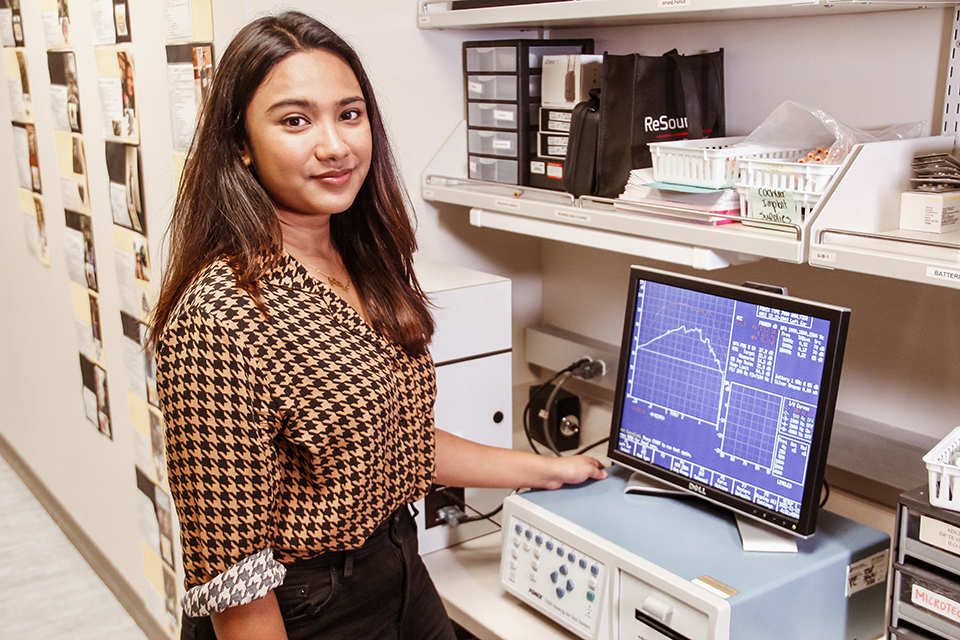 Research Opportunities
Aphasia
Autism spectrum disorder
Language development
Language disorders
Linguistics
Sign language
Dysphagia
Fluency
Neurogenic disorders
Speech sound disorders
Voice disorders
Research Areas
Language Science; Language Disorders and Disabilities
Speech, Swallowing, and Voice Science; Speech, Swallowing, Voice Disorders
Research Facilities
Aphasia Research Laboratory
Attention and Neurodevelopmental Disorders Lab
Child Language Research Lab
Child Phonology Lab
I-EaT Lab
Language Learning and Meaning Acquisition Lab
Motor Speech Lab
Neural Systems for Language Processing Lab
Purdue Infant Speech Lab
Sign Language Research Lab
Voice Lab —Sivasankar Research Group
Faculty
Tamar Greenwell
Kwang Kim