Academic Advising
Current Undergraduate Students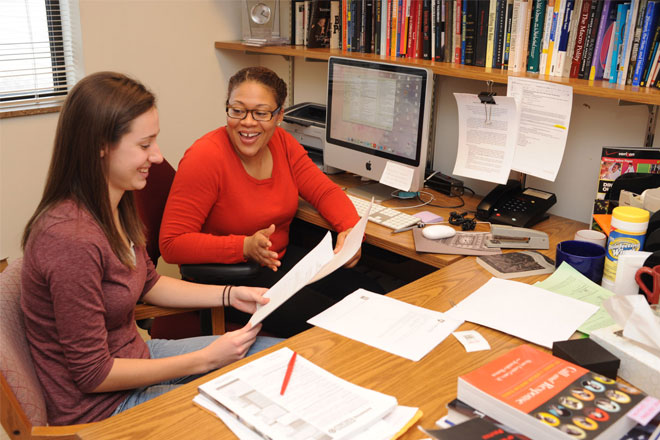 We Are Here to Help You Succeed
Academic advising is essential to student success at Purdue University. Your academic advisor will help you explore personal, academic and career goals, including questions concerning your major, academic programs, graduation requirements and University regulations. You will discuss registration and course selection for each semester with your academic advisor.
Degree Requirements
Health and Kinesiology (HK)
Hospitality and Tourism Management (HTM)
Human Development and Family Science (HDFS)
Psychological Sciences (PSY)
Speech, Language, and Hearing Sciences (SLHS)
---
Changing Your Major
If you're interested in changing to another HHS major, switching from another college into HHS, or adding a second major or degree, explore the recommendations and talk with your current academic advisor.
---
Degree in 3
The College of Health and Human Sciences offers the opportunity for students to complete their degree in three years for several majors. Completing a Degree in 3 may allow students to enter the work force or graduate/professional school a year earlier than traditional plans of study, while also providing a cost-effective way to complete an undergraduate degree.
---
Meet with an Academic Advisor
Academic advising is more than selecting and registering for classes. Academic advising helps you create an educational plan to meet your curricular, co-curricular and extracurricular goals, objectives and activities. Your academic advisor can help you understand program requirements, curriculum and opportunities; understand best practices for academic success; and guide you to the resources you need to meet your goals.
When to See an Academic Advisor
It's important to keep your academic advisor informed by sharing details about your interests, goals, challenges, academic progress and future career plans, so your academic advisor can best help you.
You're required to meet with your academic advisor prior to each registration period; however, you should also contact your advisor for advice about challenges that affect your success, to discuss student involvement opportunities, internships and career preparation; and to inform them of your progress toward your educational goals.
How to Meet with Your Academic Advisor
Current students can schedule an appointment to meet with academic advisors in person or virtually.
Schedule an In-Person or Virtual Appointment
Use the online scheduler to request an advising appointment. Please make sure to let us know your preference for your appointment (phone, Zoom, etc.).
If you're on campus, you can go to Matthews Hall (MTHW) 117 for assistance scheduling a virtual appointment.